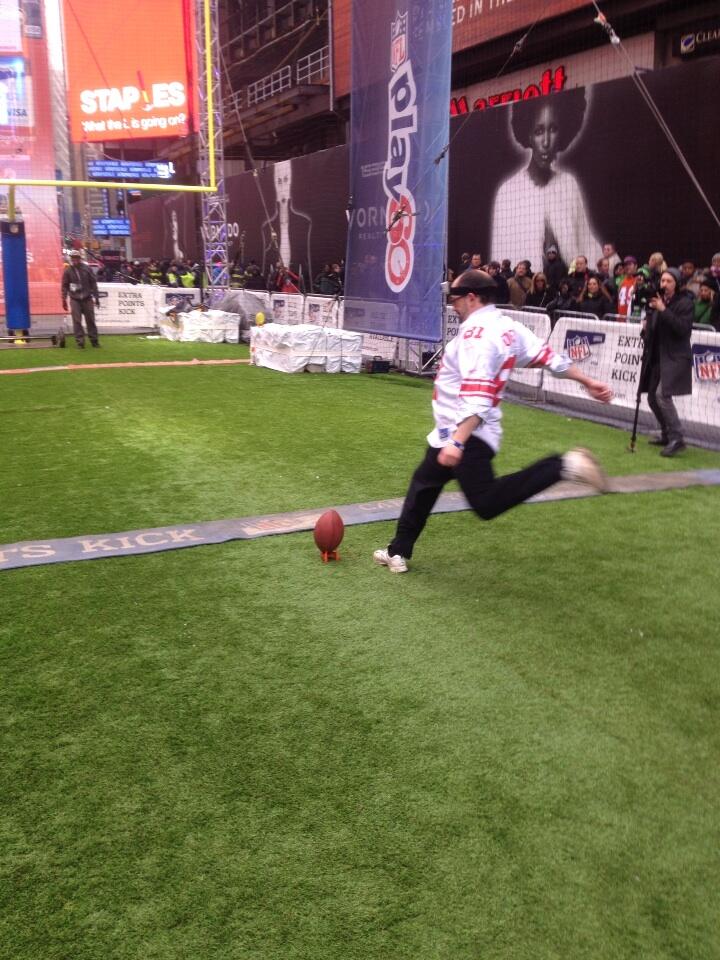 If I work for another 40 years, I may not have as much fun as I had today in making this video.
Broadway has been turned into Disneyland for football fans this week. From 47th to 34th, the whole thing is one big Super Bowl carnival; nothing but football fans and football games and football rides and the Lombardi Trophy. I don't know how you could not like it.
(Yes, that's a GoPro camera on my head. Sadly, none of that footage made the final cut.)
So anyhow, on Friday we grabbed a bunch of the WSJLive on-air talent and headed out to Times Square for a little field-goal kicking competition. I'd seen the goal posts set up on Broadway and 46th Street earlier in the week, and wanted a chance to get on there.
I got in touch with the NFL people, who were really very helpful, as they were earlier with our Lombardi segment. Honestly, I was surprised that we asked for two segments the week of the game, and they got back quickly and made we had everything we needed.
They blocked out a half-hour for us, and then it was just a matter of us making our kicks.
As a team, we weren't so hot. We went three for eight. Personally, I had an even worse performance. I was 0-3, shanked every one wide right. And on right on the Great White Way no less. The indignity.